Former Desert Storm/Desert Shield Chemical Recon Leader, Hayden Collins, Chats with a Veteran Out 'in-the-woods' in Bartow County, Georgia
Having a successful career; a wonderful family; and, doing significant role in protecting nuclear power facilities – both for the Department of Energy and the Department of Defense bases – is enough reason for someone to admire Hayden Collins. But when you learn how he's quietly led Cartersville, Georgia to respond to the needs of homeless veterans – establishing a unique program with United Way – you'd have to say Hayden Collins is a 'Patron Saint for Homeless Veterans.'
This winter, Safe America began to work with Hayden as he reached out and asked Safe America for assistance to house male and female veterans in temporary housing or shelters. During sub-freezing weather, Hayden took on – as a personal challenge – keeping several dozen veterans and other homeless Georgians alive, getting them insulated cold-weather clothing plus food – and where possible – interviews for jobs.
"Hayden Collins is a true leader in Bartow County, who as a foster parent takes on a passionate role as coach and mentor," noted Safe America CEO Len Pagano. "What touched me was to see how he spent hours of his personal time 'in-the-woods' alongside Northwest Georgia mountains, guiding those suffering from mental shock and despair and helping them put their lives back together."
Mr. Collins, who also serves as Scout leader and Civil Air Patrol commander, also hosts a weekly radio show of conservative "political commentary with a North Georgia sense of humor." Hayden is one of seven children, in a family that's served for generations in the armed forces.
Hayden's experience of different parts of the country began as the family moved. After starting his own Army career, Hayden pursued his degrees at numerous colleges near his Army assignments.  He completed his bachelor's degree in Business & Entrepreneurship at Reinhardt University in 2003 in Waleska, GA. In 2009, he completed his Masters of Arts in Leadership degree at Shorter University in Rome, Georgia.
Hayden's Service
Hayden Collins' service in the U.S. Army Reserve with the 791st Transportation Battalion in Grand Rapids, Michigan in the late 1980s included deployments to Germany and South America.  In 1991, he volunteered as the Nuclear Biological Chemical Non-Commissioned Officer and requested to be transferred to the 180th Transportation Company of Muskegon, Michigan – which was scheduled for immediate deployment to Desert Shield. It was as a Sergeant with this unit that Hayden served as the Chemical Recon Leader in the Desert Shield and Desert Storm missions in the Persian Gulf for training and protection against chemical threats.  Hayden's assignments included the 401st and later the 314th Chemical Company and the 18th Airborne Corps support detachment for Chemical Air Mobile Operations.
An Engineer With a Great Brain
Today, Collins works as a project manager and facility analyst with the Intelligent Systems & Engineering Services Corporation, an engineering consulting firm based in Duluth, Georgia.  Hayden provides assessments for major universities across the country (such as Harvard, USC, and the University of Chicago) and federal government clients (including Department of Energy sites and Department of Defense bases) and also various state prisons, police and fire stations, and nuclear power facilities. Previously Collins worked in the Nuclear Service Division of Westinghouse, performing design work, documentation and on-site safety system testing in client-owned nuclear power stations throughout the United States, Europe, and South America.  In addition, Collins has served as the Resource Efficiency Manager for the Marine Corps Logistics Base in Albany, Georgia, using his worldwide business experience in assessment, analysis and cost saving to bring more efficiency to government budgets and procedures.
Building a 'Heroic' Family Life
Hayden Collins married his college sweetheart, Sandra, in the spring of 1992.  They moved to Cartersville, Georgia, upon his return from the Desert Shield and Desert Storm missions.   They both are longtime members of the Methodist Church. In 1994, the Collins established a Foster Adoptive home.  Over the course of fifteen years, 152 children were a part of their home – including both short term and long term placements – and they officially adopted four of these children.  Hayden has written a book called Look What I Brought Home describing life in their foster home.
In addition to being a role model in his community, Hayden has also played a role in recent legislation in Georgia.  Drawing on his and Sandra's experience as foster parents, they have influenced bills that allow juvenile courts to hold open hearings to provide greater public participation and accountability.  Included are changes in the administrative structure of Georgia's Department of Human Resources for better communication and compliance and more effective management and oversight to the Department of Family and Children Services
Becoming a National Role Model
As to helping veterans, Hayden is helping build a program that he hopes to see replicated across the country with Safe America's help.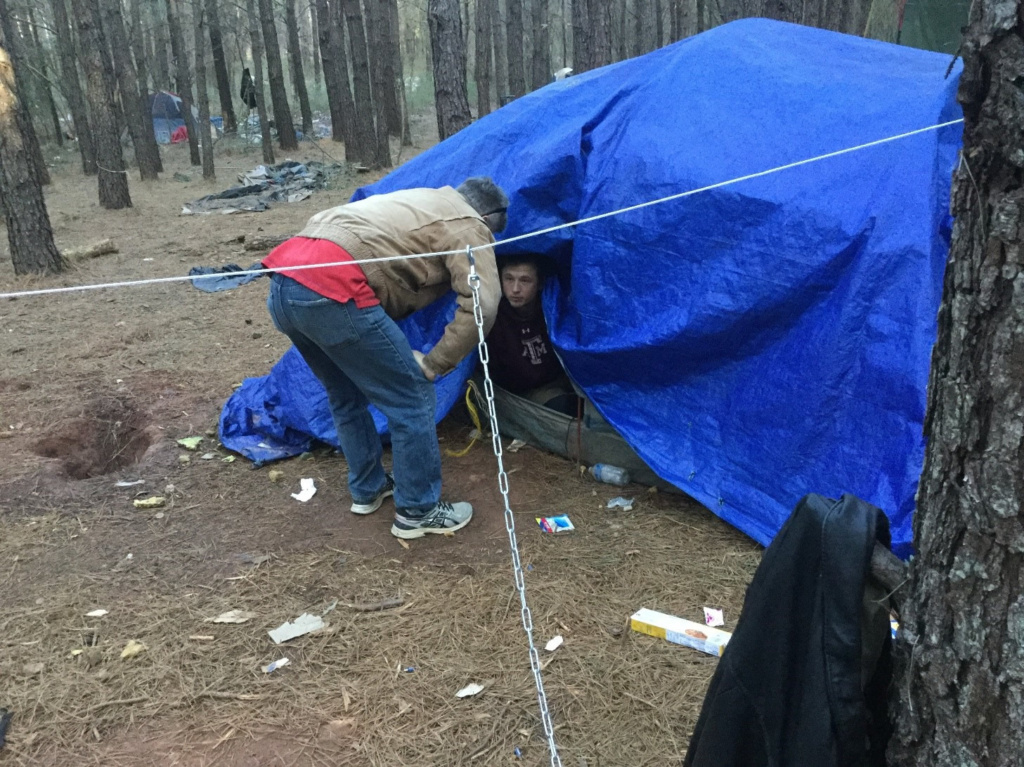 Hayden Collins 'out in the woods' helping a veteran survive bitter cold
"The fact that many veterans have learned – by word of mouth – that there are jobs in Georgia, there are growing numbers who come South off I-75 and park themselves just North of Metro Atlanta, willing to live on the streets – or in the woods – until they can figure a strategy forward," Pagano noted. "We're proud of the leadership Hayden is providing and his common sense solutions," he added, "and are hoping that together with our Board, Hayden can join others like Jim Parejko and Jim Spotts in mobilizing more caring citizens to make a positive change in our recovering veterans – both female and male."